RATING: fun sassy pirate read (3.5) // AMAZON
PAGES: 320 PAGES | PUBLISHER: Feiwel & Friends
FORMAT: Hardcover | SOURCE: owlcrate | AGE GROUP: YOUNG ADULT

There will be plenty of time for me to beat him soundly once I've gotten what I came for.
Sent on a mission to retrieve an ancient hidden map—the key to a legendary treasure trove—seventeen-year-old pirate captain Alosa deliberately allows herself to be captured by her enemies, giving her the perfect opportunity to search their ship.
More than a match for the ruthless pirate crew, Alosa has only one thing standing between her and the map: her captor, the unexpectedly clever and unfairly attractive first mate, Riden. But not to worry, for Alosa has a few tricks up her sleeve, and no lone pirate can stop the Daughter of the Pirate King.
3.5   
To be perfectly honest, I'm not the biggest fan of the cover. I think it fits the book really well, but it's not the type of cover that would make me want to grab a book off the shelf. I do love how it features Alosa and her wild red hair, and I think the title font is on point.

There aren't that many popular YA pirate books that I'm aware of (let me know if I'm just out of the loop), and I'm not quite sure why. Daughter of the Pirate King was my first pirate-focused read, and I'm so glad it was included in an OwlCrate box because I'm not sure if I would have not picked it up otherwise. It also didn't hurt that the author was inspired by The Pirates of the Caribbean movies, which are my actual favorite. (Captain Jack Sparrow is the best!)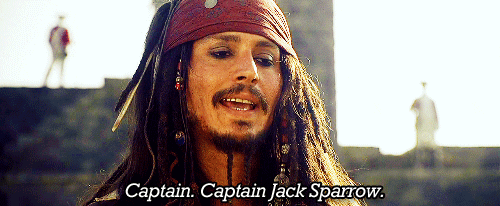 Daughter of the Pirate King was such a fun read with lively likeable characters, who just so happen to be pirates conquering the seas. Levenseller does a great job creating characters that seem to jump off the pages and take a life of their own. I loved reading the banter between Alosa, our leading gal, and all the other characters.  
Alosa is the daughter of the infamous pirate king, who controls the seas with an iron fist, and I loved every aspect of her. She's an incredibly brave independent girl with a loyal heart. She can be a bit cocky at times, but who blames her? Her sarcasm and quick wit are second to only her deadly fighting skills, which she gained through rigorous training from the pirate king himself. Not only would I want her in my corner during a fight, but she's also a caring friend, who totally supports her fellow females by employing an almost all-female crew. I thoroughly enjoyed reading about a powerful and determined leading lady, who has a kind heart but could be ruthless and deadly when necessary.
Not only do we have Alosa to keep us entertained, but Levenseller gives us the very charming first mate Riden, who just so happens to be the brother of the captain that has "captured" her. He is such a fun character! He's an intelligent guy with a heart, who doesn't seem to belong with his boorish crew & brother. The repartee between Alosa and Riden literally gave me life throughout the entire book. The both of them together are hilarious! And the amount of sass in this book is ridiculous. It's like Levenseller accidentally spilled a couple extra cups of sass into Daughter of the Pirate King, and I'm 100% for it. The chemistry between these two is obvious from the beginning, and it was amusing to witness their relationship grow.
Like I mentioned before, Daughter of the Pirate King is my first pirate-focused read, and I had so much fun with the wide variety of characters. Not only are the characters terrific, but there's plenty of action that one would expect from living the pirate life. There are nail-biting sword fights and ship battles and missing treasure maps and sleuthing around and sea mythology and lots of general badassery by Alosa.
Daughter of the Pirate King is a good-paced, quick read that had me laughing throughout the entire book. It's an entertaining read with lots of sass generously sprinkled throughout it, and there's a nice twist that I'm excited to explore in the sequel. We only get to meet a few key players in Daughter of the Pirate King, so I'm thrilled about the potential for the sequel and I can't wait to get to know all these characters even more!
COMMENT DOWN BELOW!
DID YOU FIND THIS REVIEW HELPFUL?
WHAT DID YOU THINK OF Daughter of the Pirate King?
did you predict the twist? (i did!)
THANKS FOR READING VIVALABOOKS!